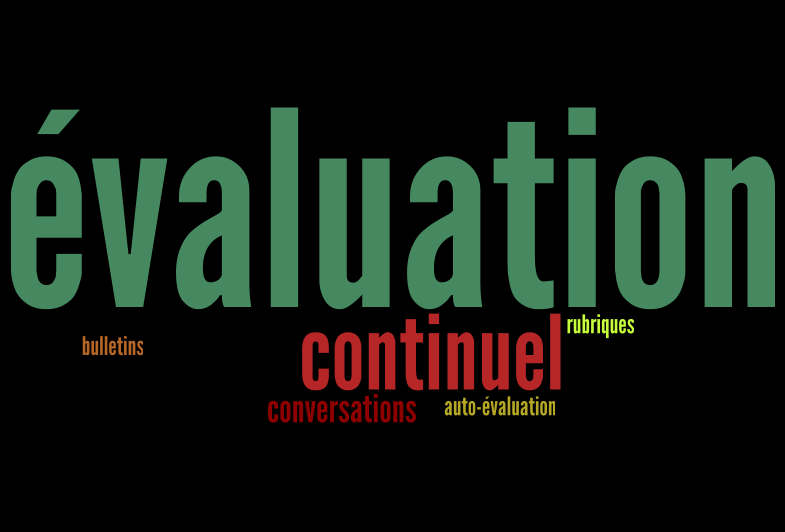 Here are my explanations. Translated into English below.
Continuel – l'évaluation est un aspect de mon enseignement que je suis toujours en train de faire.
Conversations – l'évaluation pour moi est comme une conversation entre moi et l'élève, ainsi que leurs parents. C'est une conversation qui permet l'amélioration continuel.
Rubriques – On parle beaucoup de rubriques en évaluation. Je ne suis pas très pour les rubriques. Je trouve qu'ils limitent l'imagination de l'élève. En même temps je crois que c'est important que les attentes soient claires, alors c'est une idée dont que je pense souvent.
Bulletins – Souvent les évaluations sont liées aux bulletins et il y a beaucoup d'enseignant(e)s qui les font seulement pour les bulletins.
Auto-évaluation – C'est important que je m'évalue comme enseignante tout le temps. Les évaluations pour moi sont un genre d'auto-évaluation, car ils permettent une réflexion sur comment j'ai enseigné le sujet qui est en évaluation et comment je pourrais le modifier pour améliorer les situations d'apprentissages.
——-
Ongoing – evaluation is a part of my teaching that I do all the time.
Conversations – I see evaluation as a conversation between me and my students, as well as their parents. It's a conversation that allows for continual improvement.
Rubrics – I don't really like rubrics because I think they limit the imagination of a student. At the same time I believe in the importance of clear expectations, so this is something I think about often.
Report cards – many teachers only evaluate when it is time to write report cards.
Self-evaluation – It's important for me continually evaluate myself as a teacher. When I evaluate student work it is a way to reflect on how I taught the subject being evaluated and how I can improve learning situations in the future.