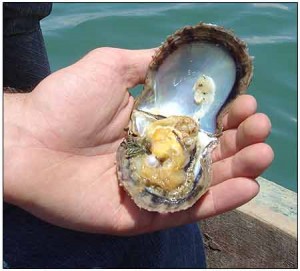 "Those that have survived such perils of the sea as typhoons, suffocating red tides, and attacks from predators are brought ashore and opened. if everything has gone well, the result is a lovely, lustrous and very valuable pearl." Click image for source.

Yesterday after work I was typing up a commitment contract with our head teacher, Lynn, for one of our students. We had had a day. I remarked that it's like that in Alternative – each day is 'a day' – and that is what makes our jobs more interesting – every day is different and exciting.
We joked about that for a while and then I said but seriously, even though they can be trying in the moment, it's responding to the varied situations and the behaviours/needs of our kids that makes me a better teacher. It's on the job professional development. I feel I learn so much each day about relationship, caring, learning. Lynn responded – better teacher? It makes me a better person.
Thought that pearl was worth showing in the light.